After an accident in the workplace, you might be wondering what is the process of filing a Connecticut a workers' compensation claim? How do workers comp cases work? What does a workers' compensation attorney do?
An experienced workers' compensation attorney can help victims of a Connecticut workplace injury or illness pursue the benefits that they deserve. First and foremost, our goal is to accurately spot any issues that may arise from your workplace injury and file the appropriate 30C Claim for Compensation Form with the Connecticut Workers Compensation Commission. We make sure to use the correct date of injury for your particular fact pattern, list each and every injury you sustained, and file the claim properly with both your employer and the comp office. Further, our work comp lawyers assist our clients with quickly obtaining competent medical care for those injured on the job. Every year, victims of on the job accident is Connecticut file thousands of workers' compensation claims in an attempt to receive compensation for medical costs, lost wages, and mental anguish. Some victims are fortunate enough to complete the process with little strife; others are not so lucky.
Countless employers and their insurers attempt to escape responsibility for injuries that victims incur within the workplace. This is just one reason why victims stand to benefit from partnering with a workers' compensation attorney throughout the claim process. These legal professionals can also assist victims by facilitating communication with medical and insurance staff, offering advice on how to fill out crucial paperwork, and helping clarify muddled legal processes.
If you have suffered a workplace injury or illness, you need information about workers' compensation as soon as possible. A workers comp lawyer at James F. Asell, P.C. in Farmington, Connecticut has over 30 years of experience in workers' compensation law can review your case, answer your questions, and help you obtain the benefits you deserve.
A Connecticut Workers' Compensation Attorney Will Help You After You File Your Claim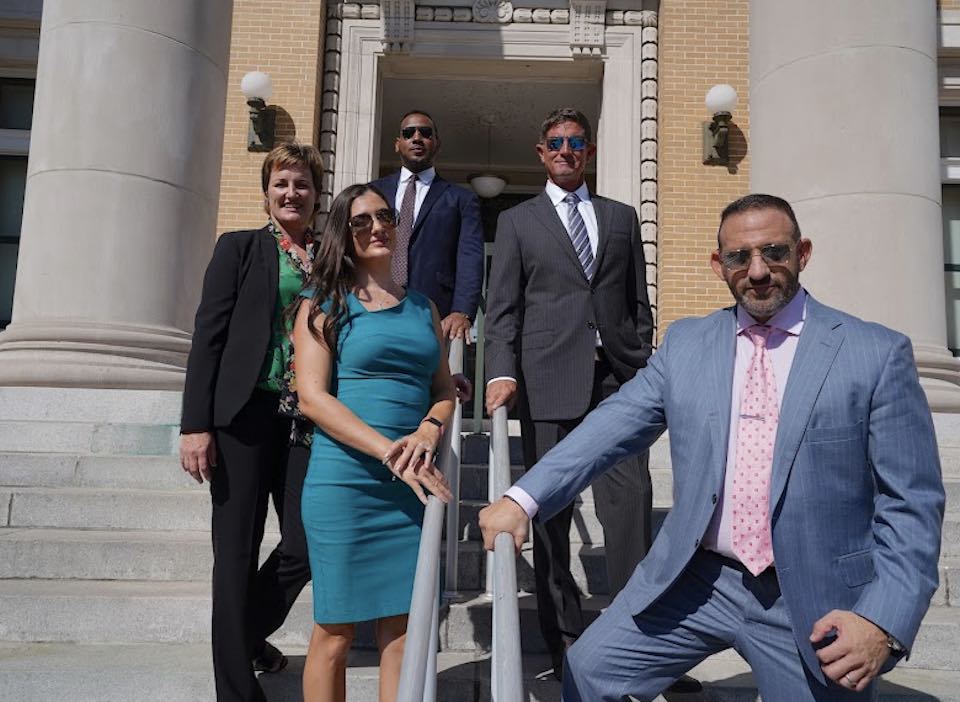 Many injured workers find that they benefit from seeking an attorney's advice before they even delve deeper than the surface of the claims process.
The process of filing a claim often proves simple and straightforward, even without legal advice from an experienced professional; but partnering with a Connecticut injury lawyer early allows victims to get to know their attorneys—and attorneys to become familiar with victims' cases—which can be a benefit if the claims process proves more difficult than anticipated.
Your workers' compensation attorney will have the knowledge and extensive experience you assist you as you fill out the required documents. They can even help you gather documentation from other parties like doctors.
The inclusion or exclusion of certain verbiage or information may be able to help speed your case along—an attorney can help ensure that you stand the best chance at a smooth claims process.
A workers comp attorney's job is to help employees settle their workman's compensation cases if an insurance adjuster fails to resolve their case. Unlike your employer, who may only feel concerned for his or her own welfare, a trustworthy workers' compensation lawyer's job is to help protect your best interests.
That means that an attorney will help you seek whatever benefits you deserve after enduring a devastating experience. It is essential you find a lawyer experienced in handling workman's comp claims.
We are a full-service personal injury law firm that also represents individuals injured in the scope of their employment. It is our goal to ensure clients receive the maximum workers' compensation benefits. Contact Jim Aspell for a free consultation to get the legal help you deserve.
Seek a Workers Comp Attorney as Soon as Possible Following a Workplace Injury
If you fall victim to a Connecticut workplace injury, contact a legal professional.
It is very important that you inform your employer and ensure that they fill out an incident report as quickly as possible after the incident occurs. This should include things such as:
Where the accident occurred
Any witnesses to the accident
Date and time of the accident
What caused the accident
Following this, you should prioritize seeking medical attention. Workers' compensation claims may involve victims seeing a doctor of their employer's choosing.
Seeking legal advice can help ensure that your employer's insurance company doesn't deny your claim—and if it does, it puts you in a better position to appeal.
What On-the-Job Injury Claims Does Your Workers' Compensation Law Firm Handle?
There are many different injury claims we deal with, a few but not all are listed below:
Muscular injuries
Hearing loss or damage
Your employer has a duty to ensure all employees are working in a safe environment. Many workplace injuries could have been avoided by proper safety precautions and adequate trading set in place by that employer.
The Purpose of Workers' Compensation
The idea of workers' compensation has been around for centuries. However, it began in the United States when Congress passed the Employers' Liability Acts of 1906 and 1908. Today, most states require employers to carry workers' compensation insurance for full- or part-time employees.
Workers' compensation provides the injured worker with a way to pay medical costs and other bills during the recovery period, including lost wages, medical expenses, disability payments, and costs associated with rehabilitation and retraining. Individual states administer the system. It is financed by compulsory payments made by the employer.
There are trade-offs to this system. An injured worker gets payments quickly, but the payments are usually capped. The employer may avoid a lawsuit, but still must provide benefits through workers' compensation insurance, even if the employer was not at fault.
Keep in mind that workers' compensation is different from unemployment income and disability insurance. Workers' compensation law applies only when the worker gets injured or dies while at the workplace or performing job-related duties. However, the unemployment income and disability insurance are paid regardless of whether the injury occurs within or outside the workplace. Workers' compensation also differs from health insurance. Health insurance covers injuries that are not job-related.
Types of Injuries
Injuries incurred during the performance of job duties, including injuries that occur at an off-site location (for example, during business travel) are usually covered. However, injuries that are caused by employee misconduct, injuries that occur outside the scope of work, and injuries caused by "acts of God" are not covered. Some of the occupations most likely to cause injuries include construction, service jobs (including firefighters and police officers), transportation and shipping, manufacturing and production, installation, maintenance, and repair.
If an employee has been injured, the employer or insurance carrier may request that the worker be examined by a qualified doctor. Failure to agree to the examination may affect the claim.
Common workers comp injuries include:
Overexertion – Lifting or lowering heavy objects, repetitive movements such as a wrist injury caused by typing
Contact with objects and equipment – Being struck, caught, or crushed by objects, equipment or collapsing structures
Slips, trips, and falls – Most of these happen on wet or snowy walkways.
Electrocution – A high voltage electric shock can lead to serious injuries. Victims may suffer from cardiac arrest, nerve damage, organ damage, brain injuries, and burns. Workers such as electricians, construction workers, utility workers, crane operators may suffer electrocution injuries.
Respiratory illness related to the use of chemicals – Exposure to dangerous chemicals like lead, asbestos, lead, pesticides, benzene, cadmium, beryllium, mercury, silica, paint, solvents, and acids may result in respiratory illness.
Who Is Eligible?
It is not always clear who is covered by workers' compensation. A worker's status usually relies primarily on two factors; whether they are an employee, and whether the injury occurred as a result of their employment.
You must be an employee of a company that has (or should have had) workers' compensation insurance. Even if you are a seasonal or part-time employee, you are eligible. Some categories of workers are exempt from workers' compensation requirements. Many state laws list specific types of employment excluded from workers' compensation coverage. These often include part-time domestic workers, such as maids and nannies. Also, part-time maintenance workers or gardeners employed in the home may be excluded.
If you are an independent contractor, freelancer, or consultant, you aren't eligible for workers' compensation benefits. If you have been injured at work and believe you have been misclassified as an independent contractor, you should consult an attorney.
Although some organizations provide workers' compensation insurance for volunteers, volunteers generally are not covered.
To be eligible, you must have been injured at work or as a result of job-related duties. That means you must have been injured at the worksite or while performing work that is related to your job. For example, if you have a car accident unrelated to your job or are injured performing chores at home, workers' compensation probably does not apply. On the other hand, if a worker gets injured while operating a forklift on the job, or falling from scaffolding, the workers' compensation law probably does apply.
The Federal Employment Compensation Act (FECA) covers employees of the federal government, including employees of the executive, legislative, and judicial branches. The main exception is military personnel. It provides benefits such as compensation for wage loss, medical expenses, and payment to dependents of employees who die from work-related injuries or diseases. FECA also provides vocational rehabilitation for partially disabled employees returning to work.
Workers' Compensation and Subcontractors
Any subcontractor that uses employees is required to have its own workers' compensation policy. If you are a subcontractor working for another company, you need to know that the IRS and the individual states have different criteria for determining whether a subcontractor is an independent contractor or an employee. Therefore, even subcontractors that qualify as independent contractors for purposes of taxes may still be considered employees under state criteria.
How Does the Connecticut Workers' Compensation Claim Process Work?
Workers' compensation is regulated by individual states. Therefore, the workers' compensation process can vary depending on where the employee is located. If a worker is injured on the job, there is a limited amount of time to submit paperwork to receive benefits. When an injury occurs, both the injured worker and the employer must fulfill certain requirements or the claim could be denied.
When an injury occurs, the employer must:
Provide the employee with the appropriate paperwork and guidanc
Comply with state law for reporting work injuries
The employee must:
Provide the employer with a detailed notification of the injury.
File a formal workers' compensation claim. YOUR EMPLOYER WILL NOT FILE YOUR CLIAM FOR YOU!!!
Benefits
Workers' compensation provides benefits such as paying the cost of medical treatment, recovery of lost wages and compensation for permanent disability. Some states also provide benefits such as vocational retraining and return-to-work programs. If a worker dies on the job or due to an occupational disease, some states provide financial benefits to surviving dependents.
There are several different types of workers' compensation benefits. The most common types include:
Medical care: This includes the cost of medical care such as emergency treatment, hospital stays, doctor visits, nursing care, medical diagnostic tests, medication, physical therapy, and durable medical equipment (like crutches and wheelchairs).
Rehabilitation: Most states provide some type of vocational rehabilitation to workers who are unable to return to their previous job due to an on-the-job injury. Some also provide psychological rehabilitation if a worker has suffered a work-related mental injury.
Cash benefits: If you are partially or totally disabled, you may be entitled to workers' compensation cash benefits for your lost wages. If you return to work, but your injury causes you to earn less than what you made before the injury, then you may also be entitled to reduced earnings benefits.
Death: If an employee dies due to a work-related injury, death benefits are paid to the worker's spouse, minor children, and other dependents. Burial costs are also covered.
While you don't need to prove negligence, the tradeoff is that workers' compensation benefits are typically capped by law, with the payment amount decreasing over time as the employee heals and begins to resume his or her job duties. Insurance companies, however, may exaggerate the degree to which they are not liable to you. A workers' comp lawyer at James . Aspell, P.C. can ensure that you recover as much compensation as the law allows, not a lowball offer the insurance company is trying to force you to accept.
When Do You Need a Lawyer for Your CT Workers' Comp Claim?
Deciding that you need a lawyer depends on how your employer, mainly their insurance company, goes about handling your claim. There are a few things you can look out for when making this decision:
If your employer states the accident did not happen at work. Sometimes they try to state the accident did not occur at work if the injury took time to become aggravated. The same can be said about injuries having to do with chemical exposure over time.
Permanent disabilities that prevent you from being able to return to work are also likely to be fought by insurance companies because of the money involved in such cases.
Your employer is taking their time with your claim and not moving it along in an appropriate manner which should take no more than 30 days to complete.
If the insurance companies deny your claim. This is when an expert is needed and you should absolutely contact a workers compensation attorney near you.
There are many other signs that you should hire a professional to handle your workers' compensation claim. Should you feel uncomfortable or like your employer does not have your best interests in mind, please do not hesitate to contact our office for a free consultation.
Connecticut Workers' Compensation Attorneys Can Help if Your Claim Is Denied
Many victims of workplace illness and injury are forced to endure the stress and uncertainty of petitioning denied workers' compensation claims. This process is often already rife with anxiety and self-doubt; insurance companies often leave victims unsure of whether they really do have a right to compensation.
Those who have been injured in the workplace can receive and do deserve benefits to help account for the losses endured as a result. Taking steps to partner with a seasoned workers' compensation attorney helps victims navigate the experience of appealing an insurance company's decision.
Your employer's insurance company may elect to deny your claim for a variety of reasons. A handful of these crop up with staggering frequency; compassionate and knowledgeable lawyers are familiar with these denials and can often help boost the chances of your petition's success.
Common Workers' Comp Denials and How to Fight Them
Here are some of the more common denials we see when it comes to workers' compensation claims and how you can fight them.
The Insurance Company Claims Your Injury Is Non-Compensable
If your employer's insurance company claims that your injury is non-compensable it means that the insurance company is attempting to assert that your injury doesn't meet Florida's requirements for workers' compensation coverage. This may or may not be correct, but the easiest way to understand your options moving forward is to seek legal counsel. Because the term is vague and leaves ample space for interpretation, this reasoning faces a high potential for misuse.
Working in tandem with a workers' comp lawyer will help you better understand the nature of your injury as it relates to Connecticut law. You may find that you have several options to move forward and pursue compensation despite your employer's insurance company's claims. Intimate familiarity with state statutes and the legal claim process helps paint a clearer picture of your situation.
The Insurance Company Claims You Suffer from a Pre-Existing Injury
When the insurance company claims that you suffer from a pre-existing injury they are often trying to dodge responsibility for the injury or illness you experienced. Many insurance companies will take any steps necessary in an attempt to avoid compensating victims for their experiences. This reason is one of the most commonly cited when it comes to workplace injury claims. It's all too easy to tell a victim that previous medical experiences or pain can be found at the root of their workplace experience.
An attorney can help you understand how to navigate denials like these, which are often reductive and belittling for victims to receive. Your legal representative will understand that your previous experiences likely have no bearing on the pain and suffering you experienced in your workplace. Connecticut law dictates that victims who endure injuries that aggravate or accelerate pre-existing medical conditions must be compensated accordingly.
Experienced lawyers also understand the finer points of rules and regulations like these. For example, preexisting conditions which are unrelated to your current injury should, in theory, have little or no bearing on your workers' compensation claim. A legal professional can help you navigate laws like these and better understand your chances of receiving benefits.
The Insurance Company Claims You Lack the Necessary Supporting Medical Documentation
If the insurance company claims that you lack supporting medical documentation and you know that you provided adequate documentation and paperwork, a workers comp attorney can offer insight into how to contest the issue. Your employer's insurance company does have the right to review your medical history and any documentation directly relating to medical treatment for your workplace injury. Victims are asked to sign a variety of releases and other forms during the medical process; these forms are then sent to the insurance company for review.
Many insurers claim that they never receive this documentation, which is much rarer than these companies would like workplace injury victims to believe. A workers' compensation attorney will be able to help fight for proper acknowledgment from your employer's insurance company. They can also assist you in the process of gathering and sending this documentation if any paperwork really is missing.
Workers' Compensation Attorneys Can Help You Protect Your Rights
As a Connecticut employee, you have a right to receive acknowledgment and compensation following a workplace injury. Many employers and their insurance companies attempt to deny victims this right. A caring and compassionate workers' compensation attorney will work tirelessly to assist you in your pursuit of the benefits you deserve.
An attorney may also be able to help you understand which legal benefits you're entitled to as an injured worker. Victims may collect compensation for medical costs, lost wages and even disability . A trustworthy legal advisor can help inform your efforts to pursue benefits.
Proving disability is often one of the most difficult components of victims' fights for benefits. Some insurance companies insist on denying benefits as long as the injured party can perform virtually any job at all. This problematic process can wreak havoc on victims' lives and financial wellbeing—and it's just one more reason why seeking legal advice often proves critical in workers' compensation cases.
A workers' compensation attorney could help you prove your inability to work; or, they may be able to argue against a claim denial on the sole basis that you can work another job. Many workplace injury victims struggle to battle with insurance companies who insist that they don't deserve compensation because of their ability to work in lower-paying positions following their injuries.
If you elect to hire a lawyer, they can also help illuminate some of the rights your employer may have failed to grant you within the workplace. This includes the right to a safe workplace. If your employer failed to take adequate safety measures or allowed your work environment to become a risk, this could benefit your case. Many employees fall victim to slip and fall accidents, burns and a variety of other injuries as a direct result of their employers' negligence.
A Workers' Comp Attorney Can Help Appeal a Form 43 Denial
Countless workers' compensation claimants are cornered into appealing their requests for compensation every year. If you find yourself in this position, you stand to benefit from seeking a lawyer to help with the process. It takes significant effort to appeal workers' compensation denials in Connecticut , but that doesn't mean that hope for compensation is lost.
It does mean that the more valuable information you can provide to your employer's insurer, the better. It also may place you in a position where familiarity with workers' compensation laws could prove beneficial. The average individual has little knowledge of these regulations and may not understand where to look or who to ask for crucial information.
This is why a workers' compensation attorney could prove indispensable in your efforts to retain benefits. Your attorney can assist you in:
Submitting your petition for benefits and ensuring that all necessary information is included in the petition; this includes details concerning your accident and injury (or injuries), monetary figures to illustrate wage losses, and which benefits you're pursuing
Your meditation hearing, which is an informal conference held between you, your lawyer, and the insurance company; a third party will be present to help resolve issues and ensure civility
The trial, should your claim come to this point; trials only begin if mediation proved unsuccessful. This involved providing evidence, testimonies, and other information to further your case against the insurance company
Legal Counsel Is Important to Your Claim
With so many potential factors that could play into workers' compensation claims, the process often presents varying degrees of challenges for claimants.
A hearing is not always needed, however, it can be very beneficial for your case. This hearing is where your workers' compensation lawyer can advocate for you and present the evidence and details of the accidents and the injuries, pain, and suffering that resulted because of it.
A qualified legal professional equipped with a knowledge of workers' compensation laws and processes may be able to assist victims greatly during their pursuit of compensation.
How Much Will a Workers' Comp Attorney Cost?
One of the things that keep people from looking into hiring an attorney is concern about the cost. Those that are in need of a workers comp attorney are typically in a difficult financial position, to begin with, and paying upfront for an attorney may seem like too much.
Fortunately, workers comp attorneys are more than aware of this and do not work at an hourly rate, and do not demand a massive nonpayment to secure their services. Instead, workers comp attorneys work for a contingency fee.
This means they take their payout of the money they manage to get for their client in the form of a pre-agreed percentage. The percentage is usually around 33% although this fluctuates depending on the case and attorney.
Plus, if an attorney fails to get you a settlement then they do not get paid. this ensures that your attorney has a vested interest in ensuring you get the maximum amount of compensation for injuries you suffered on the job.
Finding a Workers' Comp Lawyer Near You
If you are wondering 'Where is there a workers compensation attorney near me?',
We have an office in Farmington, Connecticut.
We cover workers comp claims throughout the State of Connecticut with the exception of Fairfield County Our firms are particularly active in Pinellas, Hillsborough, Manatee, Pasco, Dade, Broward, and Palm Beach Counties. Our worker's comp lawyer can assist you with your work comp claim almost anywhere in Connecticut
An attorney can also help victims explore their options for benefits. Many victims are unaware of the extent of their options when it comes to the types of benefits they can claim. Florida law allows victims in some cases to pursue benefits for:
Retraining and/or reeducation
Rehabilitation
Travel expenses for medical appointments
Legal Options
Workers who have a valid workers' compensation claim are guaranteed a range of benefits. In exchange, however, workers are prohibited from suing the employer in court for negligence. However, if the employer intentionally caused the worker's injuries, the employee can file a lawsuit. In that case, the injured worker may be awarded damages for pain and suffering, punitive damages, and other tort damages not available through a workers' compensation claim.
In some situations, the injury or illness is indisputably work-related and the claim is paid. If the claim is contested, the matter will be decided by a workers' compensation law judge. Also, the parties are encouraged to work out a settlement. However, if the parties are unwilling or unable to agree on a settlement, the injured worker and his or her attorney may decide to go to trial, sometimes called a workers' compensation hearing.
For example, if there is a disputed issue, such as whether the injury occurred at the workplace, or during the performance of job duties, there may be a hearing. Even if the employer or insurance carrier is withholding benefits because they maintain that the injury is not job-related, the injured employee may be eligible for disability benefits. These payments will be deducted from future workers' compensation awards.
Generally, in a workers' compensation case, no one party is determined to be at fault and the amount of compensation is not affected by fault. However, the claim may be affected if the injury is the result of the worker's drug or alcohol use, or the intent to injure himself or another person.
In some situations, an injured worker may choose to receive a lump sum, called a settlement, instead of continuous benefit payments. There are pros and cons to both options. However, accepting a settlement means that you are giving up the right to future benefits, which may not be in your best interest if complications develop later.
Reaching a settlement agreement can be difficult. You want to receive the compensation you deserve, but the insurance carrier wants to offer the lowest possible amount. If you decide to seek a settlement, an experienced lawyer can negotiate the best possible settlement on your behalf. Settling a claim is voluntary, so if you are not happy with the amount offered, you can refuse it. Some states allow a settlement to include a stipulation that the company will not pay extra benefits for the same injury in the future.
How Long Do You Have to Report Your Injury?
To be eligible, you must meet the deadlines for reporting the injury and filing a workers' compensation claim required by your state. Some states require the incident to be reported in 30 days or less, but you should report your injury as soon as possible. Your employer then has no more than seven (7) days to report the injury to their insurance company. After that, you should receive an information brochure within three (3) days.
How Our Workers' Compensation Attorneys Can Help You
Although workers' compensation laws are meant to provide injured workers with fast relief, the long and complicated claim process can create a lot of stress in your life.
If you were injured at work and want to file a claim as soon as possible, consult a workers' comp attorney at James F. Aspell, P.C. In addition to making sure you file all the necessary forms and meet the deadlines, our experienced attorneys will know how to gather the evidence needed to support your case, engage in productive negotiations with the insurance company, and represent you in any litigation. If you can't agree on a good settlement, our attorneys prepare for and can represent you at the hearing or trial.
For more information or to schedule a free case evaluation, contact us at 860-523-8783 or use the contact box on the side of this page. We look forward to helping you out..